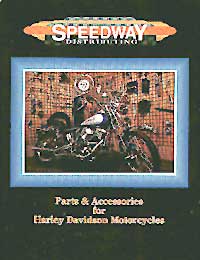 Need a catalog?
This client was outraged at the high cost of having their many motorcycle parts photographed traditionally...
...and instead chose us to digitally capture their catalog photography. To our knowledge this project, completed in 1991, was one of the first catalogs to utilize this emerging technology. What amounted to a production studio was erected in a handy back room of the client's retail motorcycle storefront. A white bedsheet turned out to work fine as a backdrop for the photo area, and the parts were brought out of the warehouse as they were needed. It turned out to be a relatively inexpensive way to go into the wholesale bike parts business, and the finished product looked fine.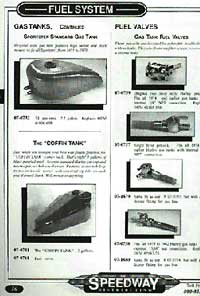 Now, the same catalog can be put online as well, through a process that's easier, faster and more cost-effective than printing. Plus, when updates are necessary, there's no need to wait for a 'next printing.' Changes can be made easily, and with no disruption. Also, there are no printing or mailing costs involved in notifying customers or distributors of price and product changes. With a simple broad band e-mail posting, an entire dealer or client base may be updated immediately.